Торт «Старинный дом»
CAKE «OLD HOUSE»

Авторская работа елены гнут
AUTHOR'S COURSE BY ELENA GNUT
Теоретическая часть / Theoretical part
— Рецепт торта «Кофейный орешек» /
Recipe for the cake «Coffee Nut»
— Рецепт Ганаша / Ganache recipe.
— Список материалов и инструментов /
List of materials and tools
Видео уроки / Video lessons
— Работа шоколадом, мастикой, ганашем / Work with ganache, chocolate and mastic
— Декор из мастики для оформления торта / Decor made of mastic for cake decoration
— Роспись торта пищевыми гелевыми и сухими жирорастворимыми красками / Cake painting with food gel paints
Поддержка / Support:
— Главными экспертами Gnut Cake School / The main experts of Gnut Cake School
Елена Гнут

,

бренд шеф-кондитер
Один из лучших международных мастеров - кондитеров, ее знают и любят во всем мире. Мастер-классы, Елены, пользуются большой популярность и насчитывают сотни довольных учеников со всех уголков планеты.
Elena Gnut, pastry chef brand
Her works are known and loved all over the world. Elena's master classes are very popular and have hundreds of satisfied students from all over the world.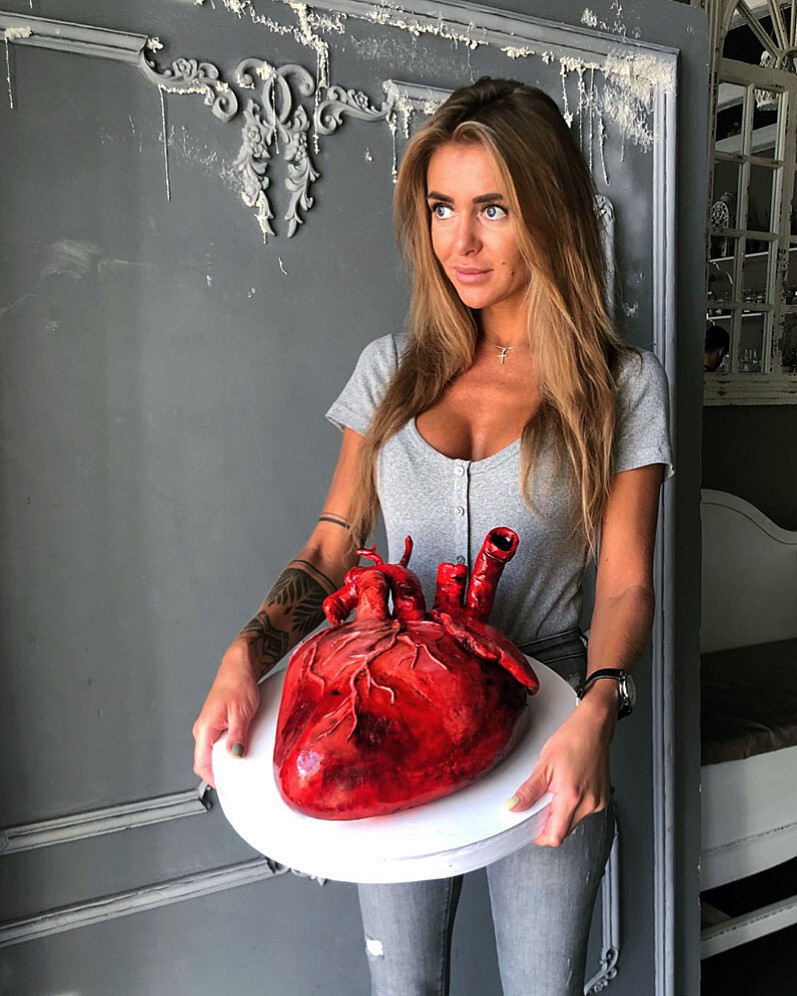 Как происходит онлайн-обучение в Gnut Cake School
How is going Online Learning

Видео-уроки записаны заранее в профессиональном качестве.
Уроки можно просматривать любое количество раз.
Результаты задания нужно прикрепить к ответу на урок, чтобы открылся доступ к следующему уроку.

На возникшие вопросы отвечает преподаватель в комментариях к уроку.

Преподаватель проверяет ответы на задания, дает необходимые комментарии, указывает, что нужно исправить.



Video tutorials pre-recorded in professional quality.
Lessons can be viewed any number of times.
The results of the assignment must be attached to the answer to the lesson, so that access to the next lesson is opened.
The teacher answers the questions in the comments to the lesson.
The teacher checks the answers to the tasks, gives the necessary comments, indicates what needs to be fixed.
ГАЛЕРЕЯ НАШИХ РАБОТ / GALLERY OF OUR WORKS
ЕСТЬ ВОПРОСЫ? / ANY QUESTIONS?
Задайте их в комментариях:
ИЛИ СВЯЖИТЕСЬ С НАМИ НАПРЯМУЮ!
Email: GnutCakeSchool@yandex.ru
Телефон: +7-911-476-11-31
Email: GnutCakeSchool@yandex.ru
Телефон: +7-911-476-11-31
© Gnut Cake School, 2019-2020
Фотографии и материалы с данного сайта защищены авторским правом и не подлежат копированию и распространению без предварительного письменного согласия владельца